It's a Chair ? Is it a doorbell or its an plane ?  No actually its FACEBOOK. In its first ever ad, facebook has compared themselves with the Chairs. Check out the official advertisement released by the Facebook and an announcement that FB has reached 1 billion people in World. Facebook is compared to chairs, doorbells, bridges and airplanes in their official 90 Seconds ad. "Facebook is like things that people use to get together so they can open up and connect".
"Anyone can sit on a chair, and if the chair's large enough they can sit down together and tell jokes and make up stories or just listen," a female voice says over footage of people sitting down.
"Chairs are for people, and that is why chairs are like Facebook."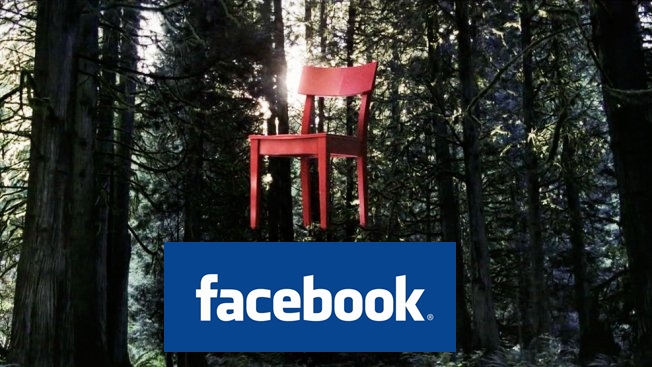 Zuckerberg wrote a blog post: For the first time in our history, we've made a brand video to express what our place is on this earth and believe that the need to open up and connect is what makes us human. It's what brings us together. It's what brings meaning to our lives.
The official ad will roll out in 13 countries including America, the UK, Japan and Indonesia, but not Australia.
CREDITS
Client: Facebook
Project: "The Things That Connect Us"
AGENCY
Agency: Wieden + Kennedy, Portland, Ore.
Creative Directors: Karl Lieberman, Danielle Flagg, Eric Baldwin
Copywriter: Erin Swanson
Art Director: Brad Trost
Executive Producer: Matt Hunnicutt
Account Team: John Rowe, Leah Bone, Maggie Entwistle
Executive Creative Directors: Mark Fitzloff, Susan Hoffman
Head of Production: Ben Grylewicz
Interactive Creative Director: Dan Hon
Business Manager: Amber Lavender
Project Manager: Lauren Walker
PRODUCTION
Production Company: Anonymous Content
Director: Alejandro G. Iñárritu
Executive Producer: Eric Stern
Line Producer: John Benet
Director of Photography: Greig Fraser
First Assistant Director: Peter Kohn
Production Designer: Jeremy Hindle
Costume Designer: Erin Benach
Production Supervisor: Laura Miller
EDITORIAL
Editing Company: Joint
Lead Editor: Peter Wiedensmith
Co-Editor: Kelly Brickner
Assistant Editor: Alyssa Coates
Second Assistant Editors: J.B. Jacobs, Eric Hill
Audio Engineer, Mixer: Charlie Keating
Post Producer: Shelli Jury
Associate Post Producer: Lauren Pullano
Post Executive Producer: Patty Brebner
Research: Catherine Liu, Zoe Hoeltzel, Matt Hayes, Montea Robinson
Finish Mastering: David Jahns
VISUAL EFFECTS
Visual Effects Company: The Mill
Visual Effects Shoot Supervisors: Phil Crowe, Hitesh Patel
Lead Flame Artists: Phil Crowe, Glyn Tebbutt
Flare Artists: Robert Murdoch, Steve Cokonis
Nuke Artists: Becky Porter, Jake Maymudes
Computer Graphics Lead: Matt Longwell
Digital Matte Painter: Andy Wheater
Lead Telecine Artist: Adam Scott
Visual Effects Producer: Christina Thompson
Visual Effects Executive Producer: Sue Troyan
Telecine Producer: LaRue Anderson
Visual Effects Coordinator Radiance: Salem
MUSIC
Music: Explosions in the Sky
Music Executive Producer: Sara Matarazzo
Music Company: Search Party Music