Smoking and tobacco consumption has always been under the scanner of health experts for posing a threat to your overall well-being to causing fatal diseases like lung and esophageal cancer. (Smoking may lead to excess calorie intake)

Science has agreed to the same and various studies have shown that excessive smoking is also linked to psychological problems and can make a person more susceptible to risk of committing suicide.
A recent study published in the journalPsychoneuroendocrinology, explains how smoking can have adverse effects on pregnant women. The study holds that smoking during pregnancy can be extremely unhealthy for the mother as well as the child. Smoking during pregnancy has been associated with causing various health related and behavioral problems in the newborn. The probable health risks include asthma, behavioural problems, nicotine addiction, etc.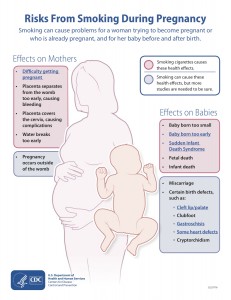 Why is it so dangerous to smoke during pregnancy?
Cigarette smoke contains more than 4,000 chemicals, including truly nasty things like cyanide, lead, and at least 60 cancer-causing compounds. When you smoke during pregnancy, that toxic brew gets into your bloodstream, your baby's only source of oxygen and nutrients.
While none of those 4,000-plus chemicals is good for your baby (you would never add a dollop of lead and cyanide to his strained peaches), two compounds are especially harmful: nicotine and carbon monoxide. These two toxins account for almost every smoking-related complication in pregnancy, says ob-gyn James Christmas, director of Maternal Fetal Medicine for Commonwealth Perinatal Associates at Henrico Doctors' Hospital in Richmond, Virginia.
The most serious complications — including stillbirth, premature delivery, and low birth weight — can be chalked up to the fact that nicotine and carbon monoxide work together to reduce your baby's supply of oxygen. Nicotine chokes off oxygen by narrowing blood vessels throughout your body, including the ones in the umbilical cord. It's a little like forcing your baby to breathe through a narrow straw. To make matters worse, the red blood cells that carry oxygen start to pick up molecules of carbon monoxide instead. Suddenly, that narrow straw doesn't even hold as much oxygen as it should.
Low birth weight. A woman who smokes during pregnancy has twice the risk of having a baby with a low birth weight. Babies with low birth weight have an increased risk of health problems, chronic disabilities, and death.
Complications of pregnancy. Pregnant women who smoke are twice as likely to suffer from placental abruption and placenta previa, two serious pregnancy complications that can result in heavy bleeding during birth and greatly increase the risk of death for both mother and child
Birth defects. Research has found that smoking during early pregnancy increases the risk of birth defects. In particular, babies of smokers seem to have congenital heart defects more often that those of nonsmokers, and the risk of heart defects seems to rise with the number of cigarettes the expectant mother smokes.
Sudden Infant Death Syndrome (SIDS). Smoking during pregnancy is one of the top risk factors for SIDS. The babies of smokers are up to three times more likely to die from SIDS as the babies of nonsmokers.
Childhood cancer. Children of mothers who smoked during pregnancy have an increased risk of all forms of cancer, including leukemia and lymphoma, studies have found.
Developmental disorders. Attention deficit hyperactivity disorder, also called ADHD, occurs more frequently in children of mothers who smoked. Studies have identified a range of other behavioral and cognitive problems associated with maternal smoking, including a 50 percent increase in rates of mental retardation.
What Can You Do to Avoid Other People's Smoke?
There is no safe level of exposure to cigarette smoke. Breathing even a little smoke can be harmful. The only way to fully protect yourself and your loved ones from the dangers of other people's smoke is through 100% smoke-free environments.
You can protect yourself and your family by
Making your home and car smoke-free.
Asking people not to smoke around you and your children.
Making sure that your children's day care center or school is smoke-free.
Choosing restaurants and other businesses that are smoke-free. Thanking businesses for being smoke-free.
Teaching children to stay away from other people's smoke.
Avoiding all smoke. If you or your children have respiratory conditions, if you have heart disease, or if you are pregnant, the dangers are greater for you.
Learn as much as you can by talking to your doctor, nurse, or health care provider about the dangers of other people's smoke.