The latest firmware 091.004 of Nokia E72 was released by Nokia. The latest software has many new features which will provide fast accessing speed and much more. Download and install the  latest software and firmware of Nokia E72. The new firmware has many new features which are as the followings :
Latest software release for Nokia E72 is 091.004
Time zone correction in Russia
Improvements in memory (RAM) consumption
Usability and performance improvements
Fast Speed
Signature Certificates
The availability of this update may depend on your network service provider. To check for updates, on your phone, open the software update app.
How to Update or Install the New Firmware/Software of Nokia E72
Use the Nokia Suite PC app to update your phone software for new features and improved performance. With Nokia Suite, you can also back up your phone to your computer, and sync your music, pictures and videos between your phone and your computer.

You can easily download and install the new software into your Nokia E72 from the handset. Just follow the procedure below to install the latest firmware into your handset.Step 1 : Go to the Control Panel in your handset.
Step 2 : Chose the option  SW Update in it.
Step 3 : Mark all the new software and  Apps in the Update menu
Step 4 :Simply Install the Software.Your handset will reset and software will be update automatically.
Enjoy the latest firmware in your Nokia More about Nokia E72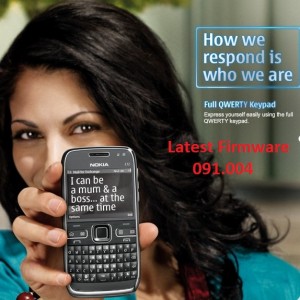 MORE ABOUT NOKIA E72