Make Free 10 Calls/Day using an Android application called Crowd Call on your smartphone for Unlimited Time. This new android app will allow its users to make 10 call in more than 40 countries per day for an unlimited time. Check the Crowd call review for android and Download the Android app Crowd call software and application for iPhone and Android smartphone. The list of those 40 countries are HERE. There is no limit of time for which you can make these 10 calls per day.
Simply install the app in your android phone and start the application. Also , the person you are going to call does not need to have any app installed in his phone, he just needs to have a valid phone number and he can be invited into conference.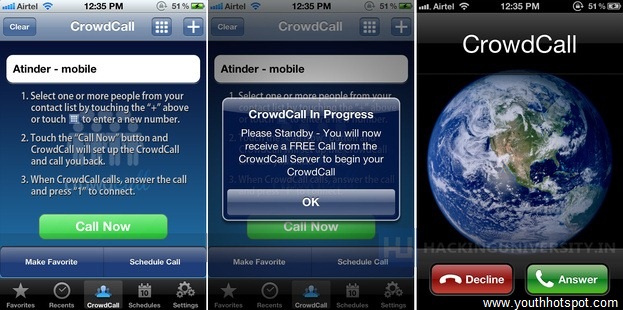 Requirements : This application will be installed in iPhone or Android devices. You just have to install it in the device and crowd call itself will be configure in the device. It is not necessary for the other person to have the same application on his device. He can receive as on the regular basis.
As seen in the above picture, I am just calling my friend "Atinder" whom I just chose from my contacts list and than I just pressed the Call Now button and I got a message that crowd call is in progress and I will receive a call soon. So now I just received a call from Crowd Call and when you answer you need to press 1 to start calling other party.
REMEMBER : You get 10 free calls per day which you can use to call over 40 countries, on iPhone at a time you can select 2 person to call together and after the call is connected you can again minimize the call and call another two persons and merge call together for free 5 person conference call, and also repeat this step fro more person adding.