Now you can recharge your cell phone with free recharges that can he earned by PickzUp.com. This website pay you free recharges if you will refer the website to 2 of your friends. Free Recharge of Rs 20/- will be given to you on complete referral to 2 of your friends. After, understanding the concept of the website I decided to give this title to my post. Know about the full concept ,review and how to earn income with PickzUp.com exclusively on Youth Hotspot.
Actually, PickzUp.com is running an referral program. According to it, if you refer the website with your referral ID towards your 2 friends and they sign up for it, then you will get the 100 Credit points in your account. Are you confused ?? Okay, let me mention a table which can help you :
Here , 10 Credit Points = Rs. 1 /-
1 Referral = 50 Credit Points
Minimum Recharge : Rs. 20 or 200 Credit Points
(Please Note : Verify You Mobile Number Too To Approve Your Account)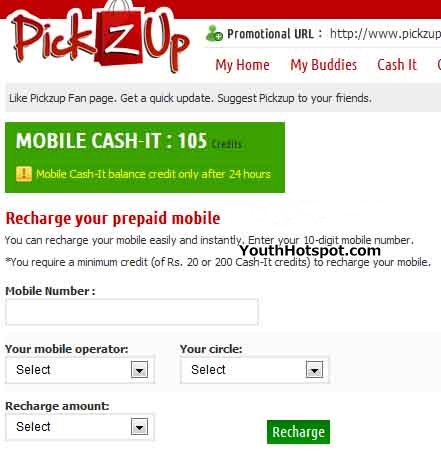 You earn Rs. 10 /- or I can say 100 credit points instantly when you join this program. But you need to have minimum 200 credit points to recharge your mobile phone with Rs. 20 /- for that you can refer your 2 friends. Remember, your and their phone numbers should be confirmed then only you account will get credited. After two complete referrals you will get 100 more credit points (@ 50 points each X 2 referral).
Finally, already you account has 100 credit points and you got 100 more. Total 200 credit points are there with you. It means you have Rs. 20 /- balance. Go on and recharge your mobile phone with the help of those Rs. 20 /-. This is recharge is actually for free, enjoy the program.
Share this information with all your friends and on the social networks.
Latest posts by youthhotspot.com (see all)