Percy Harvin trade to New York Jets
Percy Harvin was traded to the New York Jets one of the most shocking in-season trades in Seattle Seahawks history.
Harvin is scheduled to arrive in New Jersey on Saturday, at which point he will undergo the physical, no medical issues are expected.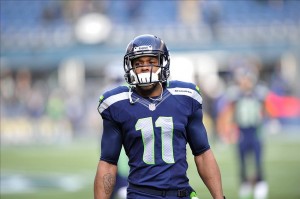 The reasons are two-fold. The obvious one is to make salary-cap space for the future big-money deal coming for quarterback Russell Wilson at the end of this season, a deal that likely will be way north of $100 million for four to five years.
The sixth-year target is due $41.5 million over the remainder of a four-year pact that runs through 2018. With none of that money guaranteed beyond this year's $11 million price tag, though, Rapoport characterized the move as a "tryout" for Harvin. The pass-catcher essentially has nine games to prove to Jets general manager John Idzik that he deserves to stick around.
Seattle clearly didn't feel that Harvin was worth the money or the hassle. Rapoport told Around The NFL that Seattle has been in the market to deal Harvin for several weeks, just one year after swapping a first-rounder and two later-round picks to Minnesota for the rights to the former Vikings star.
"This is one they've been considering for some time for a couple reasons," Rapoport said. "One, in the locker room, Percy Harvin, as we all know, is certainly not the easiest player to deal with."
Big picture: Harvin's acquisition cost Seattle three draft picks. This deal allows them to recoup one, anywhere from a second to fourth rounder, which is the area of the draft where GM John Schneider consistently unearths gems. Perhaps of even more significance, punting Harvin removes the remainder of his six-year, $67 million contract from the books. That will help Schneider pool funds for the contract extension that is doubtless coming for Wilson next spring while also providing flexibility toward subsequent deals for core players like LT Russell Okung. Also, don't be surprised if Harvin's departure lets Lynch stick around for the final year of his contract in 2015 after it was beginning to look like he could be a cap casualty after the season.
The 5-foot-11, 200-pounder returned in time for the playoffs and made an impact in Super Bowl XLVIII, rushing twice for 45 yards and returning the second-half kickoff for an 87-yard score to essentially put the game out of reach for the Denver Broncos. Seattle won 43-8.
Even so, why do it now? Why trade your most explosive offensive weapon, the man a large part of the offense is built around, five games into a season in which you hope to return to the Super Bowl?
The answer is the Seahawks were tired of Harvin's act, several sources have confirmed. The bottom line: He was more trouble than he's worth.