Dhoom 3 is an action thriller, written and directed by Vijay Krishna Acharya and produced by Aditya Chopra. It will be the third installment of the popular Dhoom series.
Abhishek Bachchan and Uday Chopra will reprise their roles as Jai Dixit and Ali Khan while Aamir Khan and Katrina Kaif form the villian duo.
DHOOM:3 Film releases on 20th December 2013.
CLICK HERE: From The Sets of DHOOM 3 | Pictures, Stills and Scenes
Cast
Aamir Khan as Jordan
Abhishek Bachchan as A.C.P Jai Dixit
Katrina Kaif
Uday Chopra as Ali Akbar Fateh Khan
Jackie Shroff
Tabrett Bethell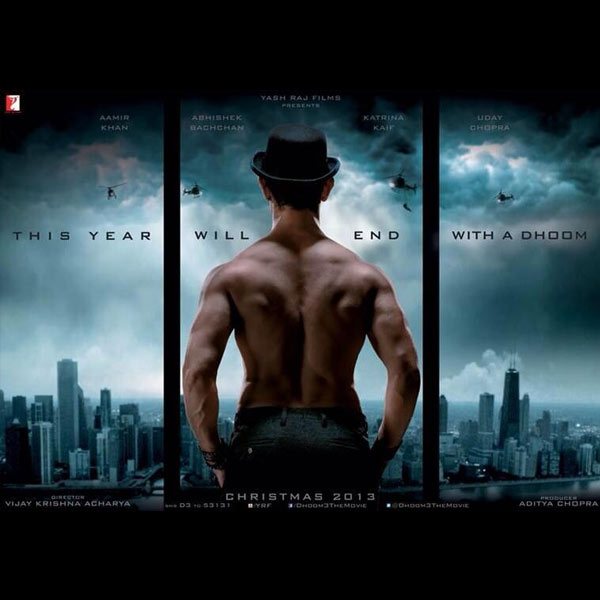 Development
On 2 January 2011, the producer of the previous Dhoom films, Aditya Chopra confirmed that the third installment of the Dhoom series would begin principal photography at the end of 2011. Initially, the producers and the lead actor Aamir wanted to release the film on Christmas of 2012, but the plan was scrapped in favor of an early release date in 2013, mainly due to a forecast that a Christmas release would force a rushed post-production schedule, which was unfavorable given the high degree of technicality required for the film.
Casting

Aamir was signed on to essay the lead role and the antagonist, while Abhishek Bachchan and Uday Chopra will reprise their roles as police officers. Katrina Kaif was signed as the lead heroine, starring opposite Khan. Khan and Kaif took up special preparations for their roles. Khan reportedly learnt ballet, aerobatics and French technique of parkour, a method of movement focused on negotiating obstacles with speed and efficiency, while Kaif took paragliding training and singing lessons. While Bachchan reportedly lost nine kilos of weight to prepare for his role in the film. Rimi Sen, who played the role of ACP Dixit's wife in the previous two installments of Dhoom series, was not approached to play her character Sweety. However, in an interview she stated that she wouldn't have done the role even if she were offered. John Abraham is said to have a cameo appearance in the film. Dhoom 3 will be directed by Vijay Krishna Acharya who is the writer of all three Dhoom films replacing Sanjay Gadhvi who directed the first two franchise of Dhoom. Stunt Director Olliver Keller was signed to direct the stunt scenes.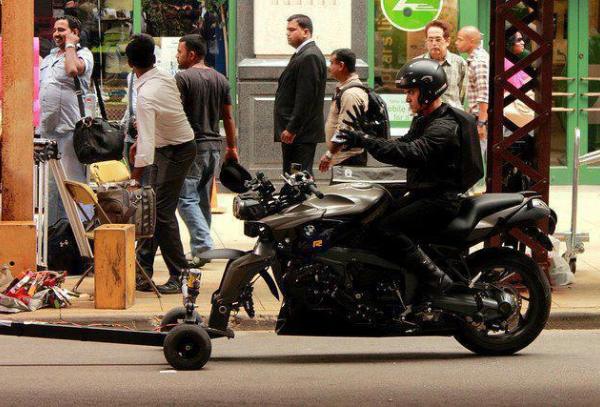 Filming
Filming was supposed to commence from November 2011, with scenes involving Abhishek Bachchan and Uday Chopra being filmed first, but lead actor Bachchan went on a paternity leave and shooting was eventually postponed to January 2012. In January 2012, the schedule was pushed to June 2012 because of lead actor Aamir's prior commitments with his TV show Satyamev Jayate and again in June the filming schedule was further postponed for a month because Khan wanted to prepare himself for his role of a gymnast. Additionally, Khan wanted to concentrate on marketing and promotions of his 2012 film Talaash. Without any further delays, filming commenced with Jackie Shroff and the child artist, playing the role of childhood Aamir Khan on 8 June 2012 at Yash Raj Studios, Mumbai. Aamir Khan joined the filming in July and filmed for only 5 days at Yash Raj Studios and, then in Chicago, U.S.A.. Aamir Khan, Abhishek Bachchan, Uday Chopra flew to the U.S. on 4 August 2012 to complete a 3 month schedule. On arrival to India in December 2012, Bachchan stated that the shooting was complete by fifty percent and would resume again, in Mumbai. Dhoom 3 is also being filmed in Switzerland. Filming began for the schedule in Switzerland during the second week of March 2013.
Release formats
Reportedly, Aditya Chopra, wanted to make the film in 3D. After observing the success of Haunted 3D, India's first film in the new 3D technology, the Yash Raj Studios felt that Indian audiences have opened up to 3D cinema viewing. However, actor Aamir Khan opined that the 3D technology needed expertise and perhaps he was unsure of the outcome of its utilization by the director. As of September 2012, YRF studios hasn't announced the production of the film in 3D.
IMAX Corporation and Yash Raj Films announced that Dhoom:3 will be the first Indian local language production to be released in the IMAX format. The film will be digitally remastered in the IMAX format with proprietary IMAX DMR® (Digital Re-mastering) technology and will be released in IMAX theaters across India and select global locations. IMAX Corp currently has 14 IMAX theaters open or contracted to open in India. IMAX Filmed Entertainment chairman and president Greg Foster stated, "With its riveting action set pieces, global locales and stunning visuals, Dhoom:3 is an ideal film to take advantage of our immersive format as we begin our initiative with Indian-language/Bollywood films."
Dhoom 3 Trailer