The feature is being rolled out across all platforms. This is a major boost to the already very popular messaging app. We are happy to note that someone, for once, isn't obsessed with videos.
Whatsapp, possibly the most popular cross platform messaging app, has added the voice messaging feature to the offering. This announcement was made by Co-Founder and CEO Jan Koum, while speaking with AllThingsD. He also confirmed that the service has now crossed 300 million active users.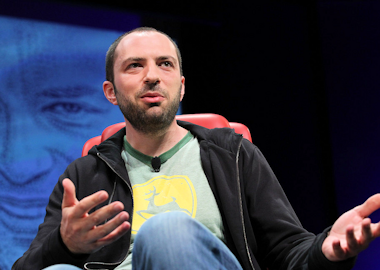 Well, WhatsApp users share 325 million photos per day, according Jan Koum, the company's co-founder and CEO, speaking in an interview at WhatsApp's unmarked office housed inside another tech-related business near Castro Street in Mountain View, Calif.
So what's next for WhatsApp? Is it mobile payments, or an app platform, or something mind-dazzlingly audacious?
Nope. It's push-to-talk voice messaging.
Today, WhatsApp is rolling out voice messaging for all of its apps, on iPhone, BlackBerry, Android, Windows Phone and Nokia.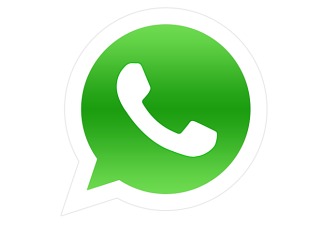 WhatsApp's voice messaging feature was a carefully designed "pet project" of Koum's over the past six months, he said.
Sure, other mobile messaging apps have voice features already — it's the main draw of Voxer, for example.
Koum's contention is that WhatApp's innovation is in how simple it makes sending a voice message. He pulled out the Facebook Messenger app to show that it takes three taps to make a voice recording.
With the updated WhatsApp, a user pushes to record a message rather than type one. When she lets go, the message sends. If she decides not to send, she swipes to the left and the recording is deleted. All that is built into a single tap.
"The number of taps matters. People want to send a message and be on their way," Koum said.
Other features: There's no length limit for the time spent recording, and the volume automatically switches from speaker when held at arm's length to soft when held next to an ear. There's also a blue microphone illustration that indicates when a message has been played. "It's very reassuring to know that someone else has heard your message," Koum said.
Other major mobile app companies like Google and Facebook and Twitter regularly stagger their releases, with different teams working on different platforms, and different prioritization. But WhatsApp — with just 45 employees — is pushing new voice features simultaneously on all its platforms, its first such parallel release. It's expected to be available to all users within 24 hours.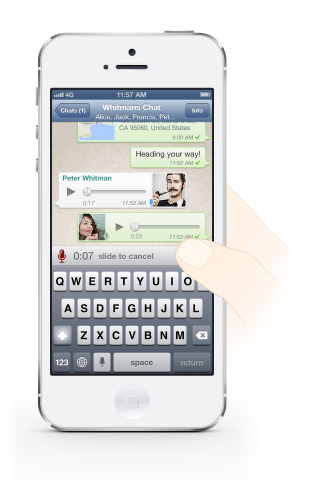 But what's the big deal with voice? Why is this important, aside from the fact that all 300 million WhatsApp users are getting access to it at the same time?
Koum argued it comes back to why WhatsApp has been successful. "Everything we do is very iterative," he said. "We're not going to come out with a big gaming platform launch. All these little details are so important. I'll spend six months obsessing over how it works on every platform."
Voice messaging will be especially important for many WhatsApp users whose languages can be harder to type. For instance, Koum said he has many friends that he corresponds with in Russian. It can be difficult because the Russian alphabet has 33 letters, which get compressed into narrow buttons on a touchscreen. Now that won't be an issue, because he can just send them voice memos.
And besides, Koum doesn't think messaging is boring. "We really are excited about this functionality," he said. "We think it is going to be awesome."
After voice messaging rolls out, Koum said he expects to turn his attention to more "media-focused" products, building on all the photos WhatsApp users are already sending.
Continuing to evolve WhatsApp will be crucial, according to Guy Rosen, CEO of Onavo, which gets insight into how people actually use mobile apps by tracking their data access.