A massive movement, which is needless to be mentioned, is still unsullied in our wits.
Film: Satyagraha
Actors: Amitabh Bachchan, Kareena Kapoor, Ajay Devgan, Manoj Bajpayee, Arjun Rampal, Amrita Rao
Director: Prakash Jha
Music: Salim-Sulaiman, Indian Ocean, Meet Bros Anjjan and Aadesh Shrivastava.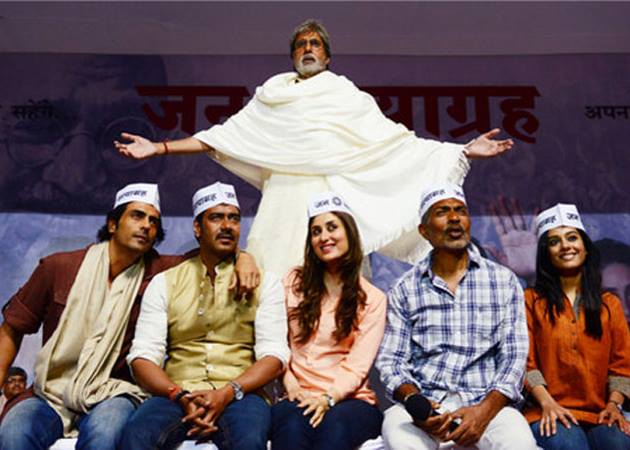 Ratings:  4/5 Review By: Taran Adarsh
The timing couldn't be more appropriate, for SATYAGRAHA summarizes the mood of the ordinary man and the nation in general. Jha minces no words while flaying and condemning the fraudulent and unscrupulous politicians and the unjust system in a style that's now synonymous with his brand of cinema — realistic, hard-hitting, forceful — that leaves a hammer-strong impact. On the whole, SATYAGRAHA is an all- engrossing, compelling drama that mirrors the reality around us. In fact, it's yet another brilliant addition to Prakash Jha's credible repertoire, who has created some of the most politically momentous motion pictures. For the splendid drama and the electrifying dramatic highs, I suggest you must watch this hard-hitting fare. Absolutely recommended!
Ratings: 4.5/5 Review By: Srijana Mitra Das , TIMES OF INDIA
Vibrantly layered, Satyagraha weaves together urban legends of corruption, encompassing corporate lobbyists to murdered engineers. It features slices of histories, Chauri Chaura, Mandal, Anna Hazare's Jan Lokpal Andolan. It takes a real issue – corruption – to reel life, movingly fusing fact with fiction Satyagraha deserves an extra half- star for capturing corruption from root to branch – a government babu complains, "Yahan toh table ka bhi bhaada dena padta hai". Showing true Satyagraha has no short-cuts, it also shows solutions glimmering ahead, as ephemeral, yet powerful as a rainbow cleansing the dust. Note: You may not like this movie if you avoid socio- political realities in cinema.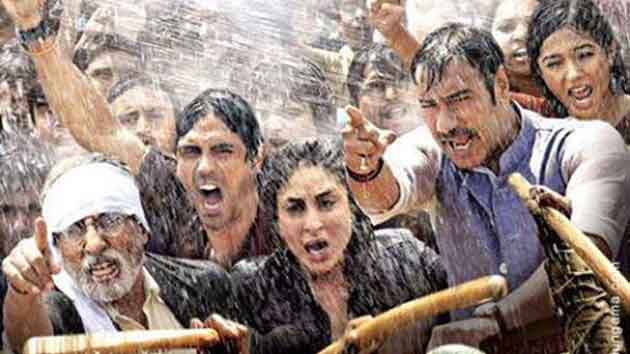 Ratings: 2.5/5 Review By: Saibal Chaterjee , NDTV
Prakash Jha's Satyagraha is a political film that, for all its well-meaning bluster, neither stings nor scalds. It fails to hit the core of the truth that it seeks. Unfortunately, Satyagraha barely skims the surface of a complex theme, leaving many a crucial question unanswered. As a result, it can hardly be expected to shake a vast nation and its somnolent rulers out of their torpor.The righteous indignation that Satyagraha articulates never quite assumes the shape of a full- fledged conflagration that can sock the audience in the face. Parts of Satyagraha make perfect sense but, on the whole, it never comes close to clicking into top gear. It leaves you more disappointed than angry.
Ratings: 4/5 Review By: Subhash K Jha (IANS) , Yahoo,Deccan Herald,IndiaToday
What Jha and his very able astute and politically informed co-writer and long-time collaborator Anjum Rajabali have done, is to collect together the thematic threads of Anna Hazare's mass anti-corruption movement and weave it into a gripping, thoughtful, hard-hitting and inspirational drama which contains all the resonances of a newspaper headline, and wrap it up in the semantics of cinema with as little creative violence as possible even while addressing an inherently violent issue. "Satygraha" conveys the uncontrollable anger and energy of a nation on the brink. For telling it like it is and for creating a compelling film out of the raw material of present-day corruption, the film deserves a standing ovation.