Tata Docomo brings a new and exclusive promotional offer to its customers. Tata Docomo will be offering a 1GB 3G data plan at just Rs 90 Only. Yes, it is unbelievable and it is true. Now Tata Docomo Users can access on 1GB data on 3G speed with 30 days validity, all you need to do is to make a recharge of STV90. Check out the exclusive article on Tata Docomo's 1GB in Rs 90 3G Plan.
Talking about 3G packs, generally Tata Docomo offers a STV 90 voucher where you will get 300 MB data on 3G speed usage for 30 days but today they sent me a message informing about 1GB data usage on the same recharge amount. First 300 MB data will be given instantly and the rest 700MB will be credited within 48 hours.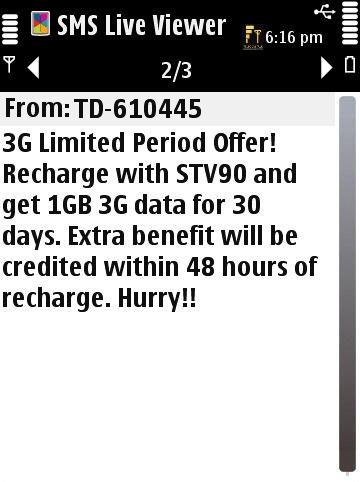 It may be a promotional offer but you can inquire you customer care representative about this kind of offer for yourself if you are a Docomo customer. If you also have received such kind of sms on your mobile then you can enjoy this promotional offer.
Note: It may be a promotional offer, hence readers are requested to ask once to their respective customer care representatives.
Earlier they were providing 300MB 3G data on the recharge of STV90 but now after you will be getting 1GB data access as a promotional offer (revised for a limited period). On a recharge of STV90 you will be given 300MB 3G data instantly and the rest will be credited in your account within 48 hours.
Tata Docomo has also presented 3G SmartLife Plan with a talktime of Rs. 219 and If you buy Rs.4 3G SmartLife recharge (in addition to Rs.246) within 48 hrs of recharging with Rs.246 and you can enjoy 1 GB Data usage valid for 30 days in addition to the Talktime (Optional offer). Now you can enjoy 1GB 3G data on the recharge of STV90 but no additional talktime will be given here.
With these 3G data plan the customers can enjoy the internet access all the country. Customer will be enjoy 3G data access in 9 circle (Punjab, Haryana, Maharashtra –Goa, UP West, Rajasthan, Gujarat, Madhya Pradesh – Chhattisgarh, Kerala and Karnataka) whereas at rest of the places they can continue using internet access on 2G network.
It may be a limited period offer from Tata Docomo but customer can take the benefit of this promotional offer from Docomo and can taste the 3G network access on their mobile device (if 3G supported).
Update: An update has been found regarding this promo, here is a complain of a docomo customer claiming that he had got the same message but when he made the recharge, he couldn't get the offered data plan, read it here
Source:Telecomtalk
Note: As it is a promotional offer from Tata Docomo hence it is advised to confirm the availability of this offer by calling the customer care of your circle but if you have got such a message show above then you can recharge with STV90 and enjoy the 3G data plan on your 3G network. please do inform us by commenting here if you are enjoying this promo so that it can help other customers as well