'Namak' 2012  will be the upcoming movie by Shahid Kapoor. Check out all the detail of the movie Namak and the also the Starcast of the movie. All the details of the stars in lead of Namak and the storyline of the movie Namak 2012 is exclusively released by Youth Hotspot.  Check the release date and the other details of the movie like trailer and poster here.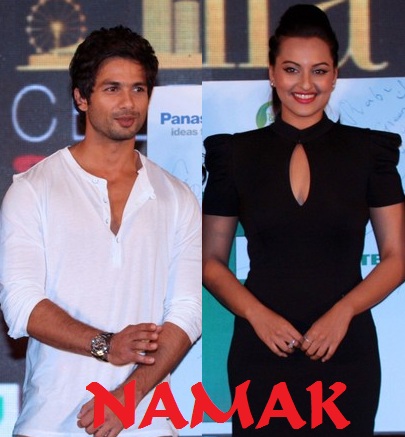 The movie is directed by Prabhudeva and Namak 2012 is a action triller movie which will be soon released by the production.
StarCast of 'Namak' :  
Sonakshi Sinha, 25, will be in the lead up against with Shahid Kapoor in Prabhudeva's action thriller movie Namak. There were reports that Deepika Padukone was finalized, but her diary is choc-a-block with so many consecutive projects. There was a buzz that Prabhudeva has been really keen on working with Katrina Kaif in one of his movies, but things did not work out for this one.
StoryLine of 'Namak' :
Not much is still out about the storyline of the movie but as per the source Shahid Kapoor will be in an action role in the movie Namak. The film is being shot in Madhya Pradesh, and the story of the movie namak revolves around the drug industry.
For all other details of the movie Namak . Stay tuned to Youth Hotspot
Latest posts by youthhotspot.com (see all)